HOW TO OWN TIMESHARE AT SUN PACIFIC VILLAS
Sun Pacific Villas timeshare sold out in 1990, but we do have a limited number of resales available. Prices range from $25,000 to $28,500 per week for the January "fixed week" 2 bedroom villas (when available), down to $4,800 for floating 2 bedroom villas, and $1,800 for floating 1 bedroom villas, per week.  This is a once only cost to purchase the title to a villa for one week per year.  For more weeks per year you buy more titles.  For full details of the price range, contact details are below.
There is an annual levy which is an ongoing charge, per week you own, to cover all the running costs of the resort.  This is $1210 or $1048 according to the size of your villa for 2023.
The Body Corporate committee have appointed the longstanding resort manager to manage the resort's resale programme.  Bev Thomas has had experience with timeshares since 1989, and is not a real estate agent.
She has leaflets which fully explain the resort's background, how it works and all the costs involved in becoming an owner. She has an in-depth knowledge of most things to do with timeshare in general, and Sun Pacific Villas in particular. Bev is very happy to chat with anyone interested in owning a villa with no obligation whatsoever.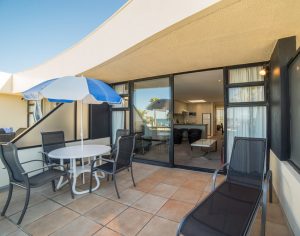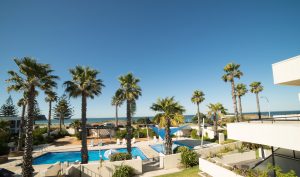 The usual procedure for purchasing is a deposit on completion of the Sale and Purchase Agreement, with the balance to your conveyancer for settlement day approximately 5 weeks later.  Bev does all the paperwork for you (usually by mail) and assembles all the documents required.
There is a conveyancing fee involved as there is a Title Deed transfer to be effected and the conveyancer, who has done almost all of our timeshare purchases for many years, charges only $740 (incl GST). You may use your own solicitor but check their fee first. It is a very straight forward transaction and is all done by email.
Sun Pacific Villas timeshare is excellent value, being a highly popular 7Across and RCI Gold Crown resort, which enhances our owners' exchange priority. As you can see, the setting is magnificent, and holidays at the resort are notable for restfulness, or exciting activities. The facilities are world class and extensive.
Any further information you require is readily available from the sales manager, who is appointed from the committee to provide this service for owners wishing to sell, and information and backup for those interested in joining the resort. The manager is not real estate agent.