THE TIMESHARE EXCHANGE SYSTEMS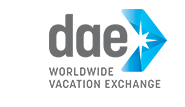 DAE is based in Queensland Australia and has an office in Taupo, and offers true worldwide exchange availability including broad coverage of New Zealand and Australian resorts. It is similar in operation to the RCI Weeks system described below.
We recommend this exchange as being very effective in achieving requests. 
Through a network of offices in Australia, New Zealand, United Kingdom, Asia, South Africa and the USA, and strategic alliances with Trading Partners, DAE is able to offer you a diverse range of destination resorts in various countries around the world.  We suggest you contact them direct on 0800 323548 or go to their website www.daelive.com for full details.
DAE continually explore ways of making the process of confirming your Timeshare holidays as easy as possible. It's all about delivering a more convenient and flexible service while remaining the best value for money in the timeshare industry worldwide.  They have streamlined the exchange process by eliminating complicated rules, resort, or points tables or complicated trading powers. You simply find what you want, and confirm your exchange in real time.
DAE has a free membership option, and also offer a Gold Advantage Membership™ upgrade for $59/1year or $142.00/3 years which offers additional benefits to members including discounts on exchange fees and bonus weeks, priority requests, and advance notice of availability plus access to the new DAE Options non-timeshare resort program which offers members the ability to exchange or rent in highly sought after areas.
DAE benefits are available for free memberships, and Gold Advantage Members.
Exchange fee is only NZ$149.00 to any destination.  
Your deposited week is banked for 3 years, and no payment is required until your exchange is confirmed.
DAE offers Bonus Weeks as extra holidays, when available, prices are from as little as $99.00 per week, no exchange deposit required. 
Optional Cancellation Protection Option for NZ$20, (so if a booking is cancelled you do not loose the week you have banked or the exchange fee.)
Nothing to deposit or pay until they find a suitable week and it is accepted by the member.
The Online Reservations System is designed to give you maximum flexibility to browse and transact in your DAE account online, 24 hours a day, 365 days a year - all this with a click of the mouse.
Members and non members can go to www.daelive.com and search live availability 24/7 - these are weeks that are available to exchange into immediately and can be done online instantly or by phone during business hours.
What can you do online?
View and book exchange, bonus and rental weeks instantly
View and either confirm or release weeks 'on hold' against your account
Update personal details, change your password
View your banking, exchange and bonus history
Make a request or Bank and Save your timeshare weeks and points
Simply go to www.daelive.com , and signup to become a member or use the Members Lounge logon button to enter your login details and get started on confirming your holidays immediately.
Dial An Exchange, PO Box 1225, Taupo, 
07 378 8825,  0800 323 548 tollfree in NZ.
infonz@daelive.com       www.daelive.com

A full description of how the exchange works is in your Australasian Directory book, however we give you here a brief outline of the main points of the system.
The system can be likened to a banking system with deposit and withdrawal facilities. To make an exchange deposit into the "R.C.I. Spacebank", you contact your Resort Manager, who will allocate you a booking for a "week" which you can then "Bank" with R.C.I. The Resort office can "bank" for you, if you wish. Your spacebank deposit gives you a "credit" in the bank which is good for 2 years forward or 1 year back. (i.e. a 2011 holiday can be deposited and drawn against in 2010). Your credit is not dependent on someone using your deposited time. Having made your deposit, you may request a holiday at any of the 3600+ resorts in 60 countries worldwide, at any time of the year, regardless of the time of the year you own in, or the particular week you banked.
There are 22 resorts in N Z, 61 in Australia, and 4 in Fiji.
Requests may be lodged from 2 years ahead, to as little as 2 days before you wish to holiday, but obviously the earlier the better. R.C.I. do the rest for you and confirm your request as soon as your choices are available in the spacebank.
R.C.I. is basically a club and has an annual membership fee ($95, or $57p/a with 5yr deal ). When you request an exchange, R.C.I. charge an admin fee for processing your request. This is - $169 for New Zealand, Australia and Fiji (per week exchanged) - $289 for Worldwide exchanges There are no accommodation charges or adjustments at all. Your R.C.I. membership provides you automatically each new edition of the Australasian Directory, a quarterly copy of "Holiday" magazine which is loaded with articles on holiday destinations and travel information, and other R.C.I. services, and bonus weeks which cost from $300 - $900.
R.C.I.'s address is  PO Box 13725, Onehunga, Auckland. 
Ph 0800 36 8800  Fax 09 3575295
Their office is in Queensland but runs to NZ office hours.
RCI Points is a new system introduced by RCI, which really rewards owners of top resorts like Sun pacific Villas, with 2 weeks for 1 in a lot of cases and also the ability to trade Points for rental cars, hotels, flights and more! 
Call 0800 569476 for full RCI Points details and costs.