Sun Pacific Villas has, like most timeshare resorts in Australasia, a mainly "floating" system of ownership, with only 4 weeks in the Xmas-January period being "fixed".
Fixed Weeks are "Fixed Bookings" and are weeks No. 52 & 1, 2, 3. The villa occupied each year is rotated upstairs and down and through different colour schemes. The first Friday in January is always the start of week 1.
Floating Weeks are weeks No.'s 4 through to 8 called Summer Float, and 9 through to 51 called Premium Exchange Float and are subject to booking at the resort office. Forward bookings open for confirmation 32 weeks in advance but 'pencil bookings' will be accepted before that but can be subject to ballot at the 32 week mark if there are more bookings than villas.
It is important to book your weeks each year, or bank them with 7Across or RCI, as they do not carry over to next year except through an exchange. Villa allocation is random with floating time, but you may request certain villas at booking and the manager will endeavour to oblige if the villas are not already committed.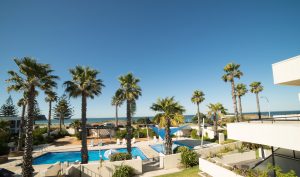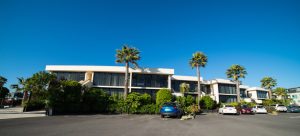 Sun Pacific Villas timeshare is a title based type of ownership, established under the Unit Titles Act 2010. There is a title for each apartment with 51 leases (for 999 years) on each title, thus giving a title for each week in each villa with a maintenance week left out for each villa. There are 1530 timeshare weeks at Sun Pacific Villas. A pooling agreement between all owners enables the choice of week and villa for floating weeks, and rotation of villas for fixed weeks, while still retaining ownership of a title deed.
The Unit Titles Act requires that there is a Body Corporate comprising of all the owners of the property and there is a committee of 6 elected to oversee the running of the resort. The committee employ a manager to see to the day to day running of the resort, and a secretary for the Body Corporate to attend to administration matters. There is no management company in the middle, thus saving considerable cost.
The Sun Pacific Villas Body Corporate committee is comprised of 6 very competent and capable owners who bring a very useful range of professional and technical skills to benefit the resort at virtually no cost to the Body Corporate. The time these people give to the resort is considerable, and the results are for the holiday enjoyment of all owners. They are elected annually.
There is an annual maintenance levy which is $1210 (incl. GST) for 2 bedroom villas and $1048 (incl. GST) for 1 bedroom villas, per week owned for 2023. This levy is a share of actual costs (non profit) of running the resort.  There is also a budgeted contribution to the refurbishing reserve fund, which is currently around $900,000 invested which helps the resort's income. There are no bad debts.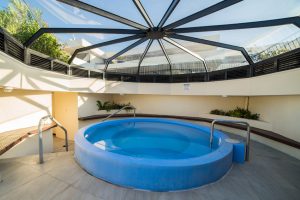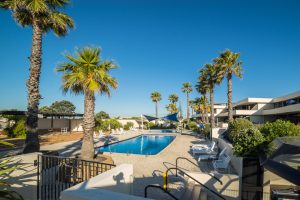 Sun Pacific Villas timeshare is excellent value, being a highly popular RCI and 7Across resort, which enhances our owners' exchange priority. As you can see in the photo pages, the setting is magnificent, and holidays at the resort are notable for luxurious restfulness, or exciting activity. The facilities are world class and extensive.
Sun Pacific Villas timeshare sold out in 1990, but we do have resales available from a few owners wishing to sell. Prices range from around $1,800 to $28,500 per week depending on the villa size and season.
There is a legal fee involved as there is a Title Deed transfer to be effected. The conveyancer who handles most of our resales charges $740 (incl GST). The usual procedure for purchasing is a deposit on completion of the Sale and Purchase Agreement, with the balance to the conveyancer for settlement day approximately 5 weeks later, but this can be varied to suit.
Any further information you require is readily available from the resort's manager, who is appointed by the committee to provide a service for owners wishing to sell, and information and backup for those interested in joining the resort. The manager has a wide knowledge of timeshare and is not real a estate agent.